Visit Kansas City, Kansas sent me on a day of fun to discover art, food and drinks in places you may not think to look. If you're looking to take family or friends on a day of adventure then this agenda is for you. I went to a quaint but eccentric art gallery, saw some incredible murals, ate some amazing pizza and cozied up at a lounge to end the day. During the summer months, it's hard to come up with a plan that everyone will enjoy but this adventure was one that could cater to many.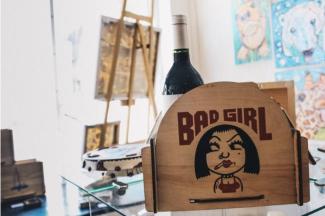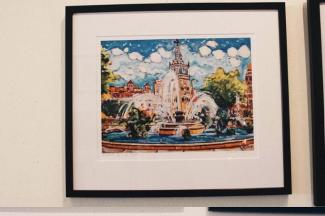 I started the day at SavArt Gallery. When entering, the gallery manager greeted us with a friendly hello.  She walked us through what was in the shop and gave us a small excerpt about Mike Savage, the owner of SavArt. Savage paints a lot of landscapes and scenery of his alma mater, The University of Kansas. He finds the most simple sceneries and turns them into bold and beautiful works of art. He harps on the saying that art is simple and that you'll either like it or you won't. The gallery manager described Savage as being an engaging and charitable man. In the shop they carry other local artists whose work ranges from paintings to jewelry to different home goods. Some of the local artists you can find are Kari Heybrock who creates handcrafted glass jewelry. Patrick Corogenes, who makes fun wood boxes with unique artwork on the outside. Also, Charlie Podrebarac, who makes incredible cartoon-like paintings. Being a KU alumni, I enjoyed seeing the different campus paintings and seeing how he brought them to life.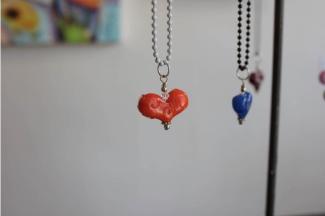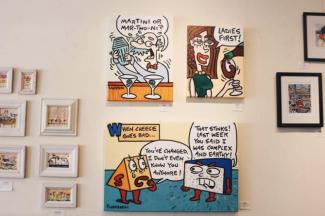 Then we headed to a restaurant called 1889 Pizza Nepoletana. This delicious place is located on 47th street and is one of my favorite spots. The key to my heart is some good pizza and an inspiring atmosphere and 1889 does that. They had received some cute personal bottles of rosé so I had to try one. Along with the rosé, we ordered the three dips to start which includes toasted rosemary focaccia, crostinis and dough points. The three different dips include white bean and garlic, creamy lemon and jalapeño artichoke and the tomato and basil. My favorite of the three was the artichoke. It is the perfect combination of spicy and creamy. Usually, when I go to 1889 I order the Margherita pizza, so I decided to change it up this time. I ordered the pizza of the week which had broccolini, sausage, mozzarella and ricotta. I can't even begin to explain the party my taste buds were having. As you can imagine, there wasn't a piece left.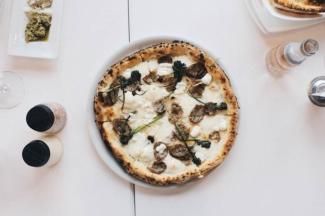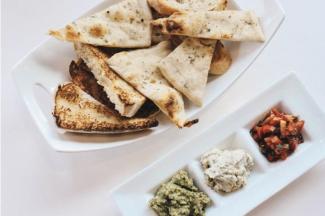 From there, we headed over to downtown KCK to check out the Avenue of Murals. Along Minnesota Avenue, you can find eight different murals. High schools students helped to co-design with professional artists for this four-year project. These murals represent the culture and history of Kansas City, Kansas. The first mural, located at 636 Minnesota Ave, is the Wyandot Echoes. It is a representation of two migrations. The first being the migration of the Wyandots from Ohio, Michigan and Ontario and the second being the Conley sisters migration. Then we headed down the street to the Kansan Printer, located at 901 N. 8th St. This was designed with past Kansas City Kansan newspaper printers. These two stood out to me but there are so many others to go and see. I would suggest taking an afternoon to walk around and soak in the different murals.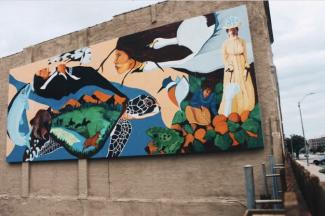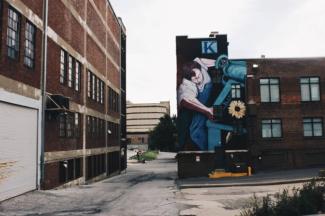 To end the day, we went to a new place called Mockingbird Lounge. The inside of this place is cozy and the patio views are astounding. They offer a small menu of food items and a carefully crafted cocktail menu. We ordered the Mockingbird Margarita and the Watermelon Mojito with the famous guacamole. I definitely recommend getting the margarita, you won't be disappointed. This place only opened four months ago but already has a calendar full of weekly events for people to enjoy. Monday is board game night where groups of people come and bring games in to share and play. Monday is also industry night where they have rotating specials. Tuesday's are for karaoke night and will start rotating out with Tuesdays. Wednesdays are drink and draw nights. People will bring their sketchbooks and drink with like minded people. Thursday is open mic and comedy night. On Friday, the house DJ comes at 10 to play for the rest of the night.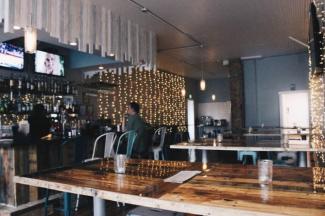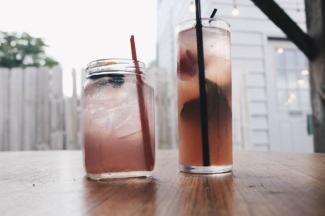 The entire day was a great experience. I got to discover parts of Kansas City that I didn't know existed and now I get to tell people about these KCK gems. I got to meet so many people like the owners, employees and customers, who were all welcoming and passionate about what they do. I am so happy I got to spend this day adventuring through Kansas City, Kansas.