Who doesn't love a good pizza?  Especially one that is double kneaded and the sauce is made fresh each day?  Well, that's what you can find at Chiusano's Brick Oven Pizzeria in the Legends Outlets Village West.  One of the newest restaurants in the area and right in the heart of the Village West, Chiusano's Brick Oven Pizzeria is "Mom & Pop" owned and operated.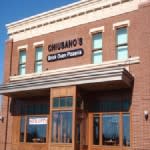 On a recent outing, the staff of the Kansas City Kansas Convention & Visitors Bureau stopped in for lunch. We make it our goal to try each new restaurant that opens…tough job, but hey, someone has to do it! We were greeted with an amazing wait staff who told us all about the owners and the philosophy of the fresh ingredients and amazing flavors that go in to each menu item. The buyers attempt to buy local whenever possible. All of the recipes are inspired by family recipes from the mountains along the coast of Southwest Italy.

The specialty pizzas include everything from traditional favorites to new and different….Snooty Coyote, Elk Sausage and Goat's Milk Brie, just to name a few. The salads and appetizers are amazing, and very unique! Can you say Jamaican Jerked Scallops over mixed greens with Orange Honey Vinaigrette or Broccoli Raab with Parmesan? 

So, as we sat and contemplated all of the choices, we could not make a decision on just one so we ordered 4 different pizzas and shared the flavors. There was not one negative thing we could say; all of the food was delicious. After our appetizers of Spicy Crab Cheese Dip and Sweet Potato Sweet Thai Fries, I am surprised we had room for pizza, but we did!

This is just one of many restaurants in the Village West, but definitely one that I will recommend to my friends and family. And I would be glad to go along to taste more of the delicious food.  Maybe next time I will save room for dessert.

-Kerry Green
Kerry Green is the Meeting, Group and Event Manager of the Kansas City Kansas Convention & Visitors Bureau, Inc.