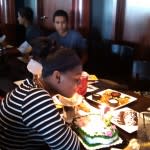 She was turning 13. No more skating parties, bowling parties, and definitely no swim parties, she wanted to invite boys. Where could I go where she could have fun, invite boys, eat, act silly, dance if she wanted to, not get wet, and still be within my budget? Dave & Buster's! the perfect place to go especially when your daughter's birthday is in December. Dave & Buster's have several birthday and special occasion options depending on your budget. All come with menu options and game cards. You can get a private room and order from the special menu or elect to get a table in the restaurant and order from the menu. Plus, they're open all year long including holidays!

After eating, and celebrating birthday with cake that you can bring in or order from the menu and gifts, that guests can bring or purchase Dave & Buster paraphernalia, the teenagers can cut loose and play video games until their hearts content or they run out of money on their game cards, whichever comes first. In either case, you've received the best parent award for hosting the "best birthday party ever " and for you, no clean up!

-Judith Rainey
Judith is the Visitor Services Coordinator for the Kansas City Kansas Convention & Visitors Bureau, Inc.