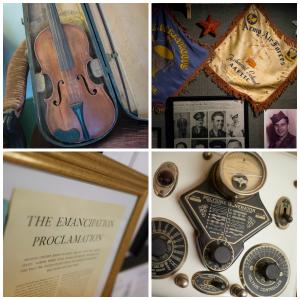 There is no question about it, Kansas City, KS is an exciting place to be. We've got the world's tallest waterslide, award-winning barbecue, and new places to shop popping up left and right. Recently, we've been praised for our authentic taquerias and surprisingly (to those who don't know us as well) exciting nightlife. There's a lot going on, and there is even more to come – but it's got me wondering a little about what made this unique city the place it is today. I consider myself somewhat of an expert on what's happening now or this weekend in Wyandotte County, but as for what happened yesterday, I am embarrassed to say I know about as much as someone living in Spain. I can't be the only one who feels like this, right?
Well, my fellow kind-of-clueless friends, our time has come to finally gain that knowledge we've been hoping for! Finally, a chance to learn all about the culturally and historically abundant playground that is Wyandotte County.  This month, the Museums & Historical Sites of Wyandotte County is hosting a bus tour that will take you all around to some of the most fascinating spots in Kansas City, KS. The Wyandotte County Museums & Historical Sites Bus Tour includes stops at seven museums, a guided tour and a delicious Slavic lunch at the beautiful Strawberry Hill Ethnic Museum & Cultural Center.  Find more information about the Bus Tour here. 
Here is just a glimpse of what you'll find on the tour:
1)  Wyandotte County Historical Society & Museum
The Wyandotte County Historical Society and Museum focuses on Wyandotte County history, from the Stone Age up to the present. The NEH Traveling Exhibition, Spirited: Prohibition in Americ, will be featured at the museum April 6 - May 25. Visitors will be transported to the controversial era of prohibition, and learn about flappers, suffragists, bootleggers and legends like Al Capone and Carrie Nation. 
2)  Clendening History of Medicine at KU Medical Center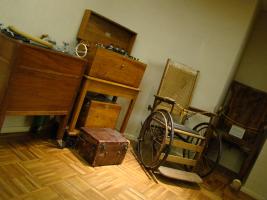 The Museum largely focuses on late nineteenth and early twentieth century American medicine, with a special emphasis on Kansas medicine from that period.  Visitors can also find a growing collection dedicated to American Civil War medicine, and World War I and World War II medicine.  Medicine from the Ancient World is also represented including notable collections of Roman, Babylonian, Egyptian, and Chinese artifacts and many other cultures as well.
3)  Strawberry Hill Ethnic Museum & Cultural Center
The StrawberryHill Museum and Cultural Center, an original Queen Anne-style home built in 1887, preserves the diverse ethnic cultures that immigrants from Eastern Europe brought to the city in the early 1900's. The museum hosts various exhibits of original art, music and dance from the Slavic culture.
4)   Quindaro Underground Railroad Museum & Overlook
Housed in the historic Vernon Multi-Purpose Center, the museum has several artifacts and documents that tell the story of the town and people of Quindaro. The ruins and overlook are an archaeological free port of entry off the Missouri River that provide a rare window into the past. The stone and brick foundations offer tangible evidence of a largely unrecognized chapter in American history.
 5) Old Quindaro Museum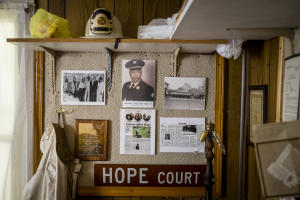 Old Quindaro Museum preserves and promotes the historical and cultural awareness, educational value and overall importance of the African American Community of Quindaro to the history and evolutionary development of Kansas as well as the United States of America. The goal of this preservation is to bring history to live through photography.
 6)   Grinter Place Historic Site
Home of Moses Grinter, one of Kansas' earliest pioneer settlers, who established the first ferry across the Kansas River. The 1857 Georgian Vernacular home built on the Delaware Indian Reserve is the oldest farmhouse in Wyandotte County and is one of the oldest farmhouses in Kansas.
7)   National Agriculture Hall of Fame
The National Agriculture Hall of Fame is devoted to honoring America's farmers and features former President Harry Truman's plow is here along and more than 30,000 agricultural relics. The beautiful 172-acre setting is home of the Agricultural Hall of Fame, Museum of Farming, National Farmers Memorial, Gallery of Rural Art, Farm Town USA, and scenic nature trail.There are only 50 seats on the bus tour, so if you have any interest in learning more about the intriguing history of Kansas City, KS, get your spot now before they're all gone! Tickets are $30 and should be purchased in advance with cash or check at the Kansas City Kansas Convention & Visitors Bureau, Inc. See you on the Wyandotte County Museums & Historical Sites Bus Tour! 
-Rebekah Baughman
Rebekah is the Marketing Assistant & Visitor Services Coordinator