Recently I had the opportunity to set off for a night of fun and adventure to Chateau Avalon and the Legends Outlets Kansas City. We arrived at the hotel around 5:30 pm where we were greeted with a friendly welcome and great service. After receiving the room keys, we headed to our "adventure-themed" room. Our room was labeled the Castaway Room so we weren't totally sure what to expect. After punching in our key cards, we walked through the door and above us was the gigantic wooden boat and a large jungle-like mural across the wall. As you follow through the doors, there is a stand alone jet tub and a table with two chairs with a view of the patio. There is a stairway up to the top of the boat where the bed is. I have never seen a hotel room like this so I knew we were in for a treat. We got settled in and unpacked our belongings and decided to head out to dinner before it got too busy.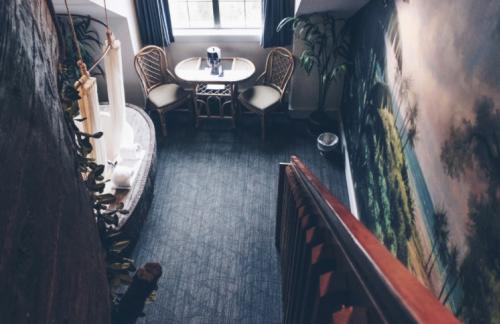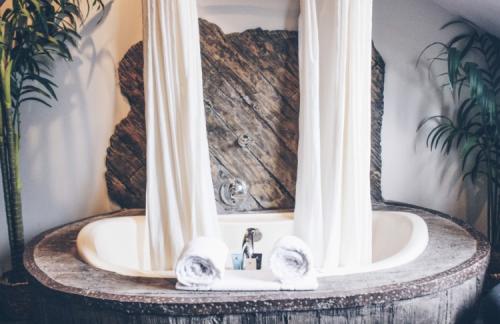 We went to a restaurant at The Legends called Jazz, a Louisiana Kitchen. The vibrant decor around the entire restaurant will make you feel like you're in the heart of New Orleans. Since it was Saturday night, the restaurant was packed with people ready to eat and listen to the live band. We put our name on the list and decided to walk around and look at the different shops. After checking out a few stores and making our way around the place, we went back to Jazz and it was time for us to be seated. To start, we ordered the Voodoo Wings which are probably the best wings I've ever had, not even kidding. You can always get to my heart through anything spicy and these wings are the perfect amount of spicy. I would definitely recommend these for anyone who goes. We wanted to get the full Jazz experience so we stayed away from your everyday meals like a burger or pasta. We ordered the Shrimp Po Boy and the Voodoo Chicken Sandwich. The Po boy sandwich is pretty good, it has shrimp that's tossed in cajun seasoned batter and is served with hush puppies and I chose to get the sweet potato fries. The chicken sandwich had the same sauce as the wings so we already knew what to expect as far as flavor. Both of the sandwiches were really good but we were so stuffed we didn't get through them all. While we finished our drinks, we listened to the live band and watched the KU game.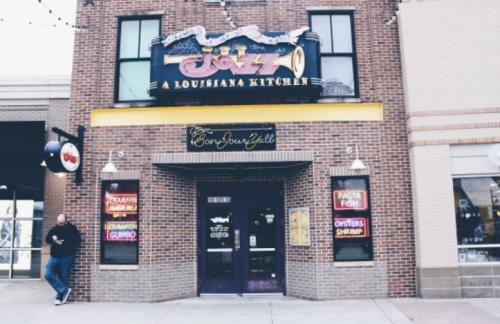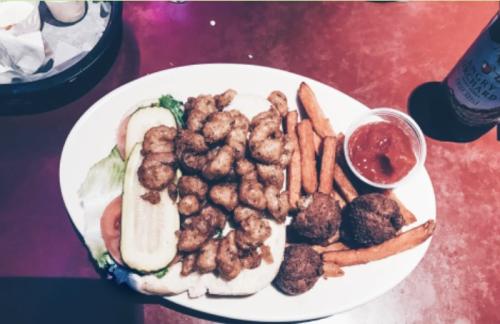 At Chateau Avalon there is a little wine bar downstairs called D'Nile. After we walking in, the bartender welcomed us and moved tables around so that we could see the tv. The place was pretty full with people watching the game but it made for a great experience to have a crowd watching together.  The bartender took our order and made me a "surprise" martini drink. It wasn't a traditional martini, it was fruity and sweet but it was exquisite. He took care of us and made sure that we had everything we needed. The room is Egyptian theme, to go along with the name, and the decorations matched. After a few drinks and a sad KU loss, we decided to call it a night and head up to the room.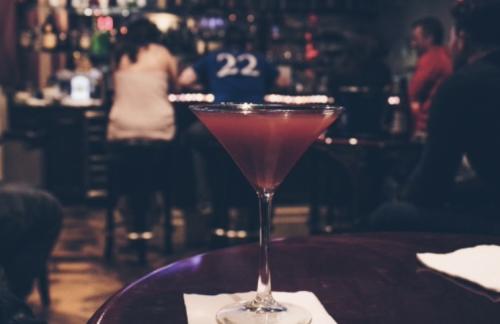 In the morning, we ordered room service for breakfast. We ordered biscuits and gravy, scrambled eggs, bacon, hash browns and English muffins. We sat next to the window and enjoyed our morning view. After our adventure, we were ready to head out and get back home.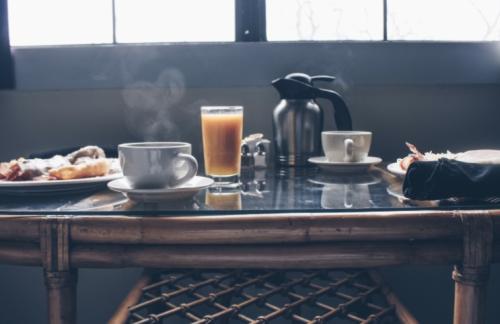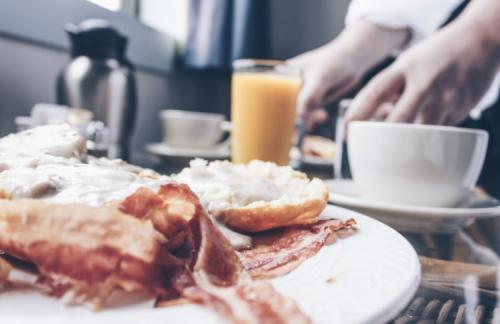 Overall, I had a wonderful weekend. The Chateau Avalon employees were so kind and readily available to help with any questions we had. I would definitely recommend this hotel to anyone who is looking for a little getaway weekend out of the city with their significant other. The Legends has plenty of restaurants to choose from even if you're just looking for something quick to pick up or to have a date night out, you'll be sure to have a great weekend away.