Let me start off by saying, I wait all year long for Halloween. Very few things make me as giddy as the thought of cool, dark nights, creative costumes and the scares, oh the scares. I crave a good scare. Heights? Child's play. Gory horror films? Bring it on! Clowns? Eh, I may sweat, but I can handle clowns. So when I heard 3rd Street Asylum, a haunted house in Bonner Springs, KS, was opening early for one night only, I knew I had to jump at the chance to get my Halloween fix.
This would be my first trip to the 3rd Street Asylum. As someone who considers Silence of the Lambs and Rosemary's Baby two of my favorite movies, I was a little disappointed I hadn't been yet. Thus I grabbed two of my best and bravest friends and headed just west of the Kansas Speedway to the quaint but quirky Bonner Springs.
The 3rd Street Asylum sits on the corner of 3rdand Cedar Streets, not far from Elm Street. That's some juxtaposition, huh?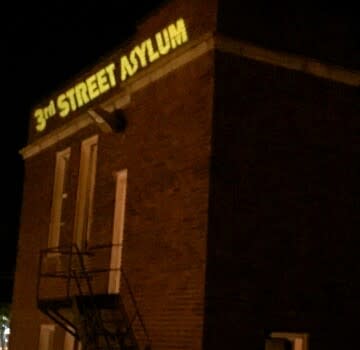 While not really an asylum, the haunted house takes place in an old abandoned high school, which to me is much scarier (high school…yikes). The fictional, yet chilling, story focuses on Bob Barber the Butcher, an axe murderer who supposedly entered the asylum in 1962.According to the tale, the asylum was shut down for "inhumane living conditions and treatment methods," as well as the disappearance of Bob the Butcher. Basically you stroll down long, terrifying hallways hoping and praying the story is truly fictional.
The annual Tiblow Days Festival was going on that weekend, so the downtown was still buzzing with local families, live music and the aroma of carnival food. It was cloudy, which made it darker than your average evening in August, and perfect for the occasion. As we made our way at the end of the long line of texting teenagers, I could hear shrieks coming from inside the 3rd Street Asylum. Lights flickered through the foggy windows, and every now and then a masked man would pop his head out and glare over the crowd of anxious victims. Another man who looked like a new age Frankenstein's monster would periodically creep through the crowd startling everyone he got close to. Finally, we made our way up the steps and into the asylum. 
My friends and I waited patiently for the zombie nurse to tell us to go ahead. I couldn't help but feel a chill up my spine when I realized I really had no idea what was around that first dark corner. What impressed me most about the 3rd Street Asylum was that it hit every single fear you could imagine. One of my most horrifying memories is the first time I saw "The Exorcist", so you can imagine how quickly I hid behind my taller friend when I saw a girl back-bend crawling towards us. At one point we found ourselves trapped in a creepy old bathroom before we realized a tiny crawlspace was our only way out. We screamed, we jumped, we ducked, and we sprinted out of the building as a man with a chainsaw chased us. In the end we laughed, but agreed it would take a while for our heart rates to go down.
If you're going to be in Kansas City this October, one of the very first things I would recommend is going to the 3rd Street Asylum. It's a thrill unique to anything else you can find in the Midwest, and it's only around for one month out of the year. So what are you waiting for, do you dare pay Bob the Butcher a visit?
The 3rd Street Asylum is open weekends September 30th – October 31st.