Make the most out of your summer with the 94 Days of Summer Fun. This never-boring list is filled with ways to celebrate summer that are uniquely Kansas City, KS. The 94 items on this list showcase Kansas City, KS culture, history, and absolute favorites.  You've got 94 days to get it all done – are you ready?
It's no secret that barbecue is best when it's eaten in Kansas City. Find out why Joe's Kansas City Z-Man sandwich (#71) has mouths watering all over the nation. Answer the famous, "Hi, may I help you?" at Gate's BBQ (#27) or why not pay homage to one of the pioneers of barbecue at Arthur Bryant's (#46). If you're looking to take your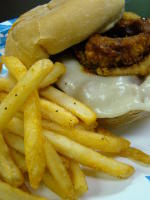 barbecue experience to the next level, come face to face with  Pappa Bob's Barbecue  Ultimate Destroyer Challenge (#43)  – featuring 4 ½ lbs. of meat with a generous amount of barbecue sauce on a 12" hoagie (don't forget the extra bread between the meat), all on a 1 ½ lb. bed of fries. Don't worry – if you're still hungry they include pickle spears and jalapeños for your "culinary enjoyment."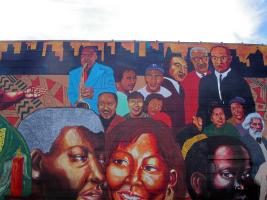 Take advantage of the summer sun and explore the unique artwork and monuments around downtown Kansas City, KS. Stroll along the Downtown Kansas City, KS Avenue of Murals (#70) and see the eight colorful murals that celebrate the history and cultures that make up Wyandotte County.  Honor soldiers who fought in WWI and WWII at the Rosedale Memorial Arch (#62). This beautifully historic tribute was based on the Arc de Triomphe in Paris, and was designed by Rosedale resident John LeRoy Marshall in the early 1900s. Are you camera ready? Don't forget to snap a selfie with John Brown (#88), the famous Kansas and anti-slavery radical, at his statue in the heart of the city.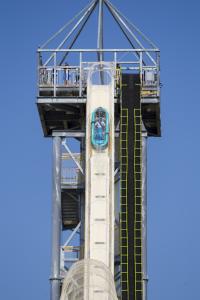 Of course, maybe you're looking to get your toes wet this summer? Cool down at one of three free spray parks – Eisenhower, Heathwood and Pierson Parks. (#38) If you want to be soaked from head-to-toe you could always meet up with Wiley the Wolf (#20) and stand under the 1,000 gallons of pouring water at Great Wolf Lodge Kansas City. (#78) For those of you who are really plunge – How about a 168 foot 7 inch plunge down  Schlitterbahn Kansas City Waterpark's Verrukt?  (#9)  But not to worry, for the more mild of you, Schlitterbahn is also home to Kansas City's only interconnected river system, Boogie Bahn surf ride, water coaster rides, and heated pool with a swim up bar.
Oh, but the fun doesn't stop there…
#25 Kick it with the 2013 MLS Champs Sporting KC at Sporting Park
#59 Drink a half yard of Boulevard Beer at Yardhouse
#15 Find deals and unique items at the Boulevard Drive-In Swap 'N' Swap Flea Market
#50 Enjoy u-pick apples, hayrides and bonfire fun at Cider Hill Family Orchard
#53 Taste award-winning Kansas grown wines at Wine Barn Winery
Are you ready to work your way through the 94 Days of Summer Fun? We'll share your experiences along with our own! Snap a photo and join us using #KCK94Days. Let the fun begin!
Check out the complete 94 Days of Summer Fun list here.